Product Discovery Workshop
You need great solutions. We have a great process.
Your problems need bleeding edge technology solutions to compete in the market. Skcript's Product Discovery Workshop helps Enterprises go from idea to MVP, 2x faster.
What are Product Discovery Workshops (PDW)?
Everything you need to know about Skcript's Product Discovery Workshop.
What are PDWs?
Skcript's PDW is a 3-day intense process to solve business problems with the right solutions and build a working prototype or more.
Why run a PDW?
You need to build a great solution to stay competitive, and PDWs focus on just that. Nothing less than that. PDWs are the fastest way to build the right MVP.
Duration of a PDW
PDWs run at client's place for 3 working days. Bringing the best stakeholders to bring a variety of views of the problem we are solving.
Outcomes of PDW
A clear roadmap of what you need to focus on, where to invest and when to invest in a product. We call this, a PDW Report.
---
You need an action plan, and PDW delivers more than just that.
A Minimum Viable Product
We work closely with you to take advantage of our expertise to build a Minimum Viable Product that you can use to try it out to a sub-set of users.
18-month Roadmap
A clear roadmap with feature breakdown for the product idea that you can utilize for the next 18 months.
Proposed Budget
A budget for your finance to approve that you can use to plan your months ahead to grow the product exponentially.
Technology Stack
A document that details the proposed technology stack for building the future roadmap and to source talent.
PDW Report
PDW Report is your wiki of the product idea, solution, the pain points, struggles and so much more.
---
Building a DLS
Build a Design Language System specific to your company to build & scale MVPs faster.
Know more from us
Talk to us to know more about how you can get the maximum value out of PDW in your organization.
FAQs
Everything else you need to know about PDW can be found here.
---
Bring the power of Skcript Product Discovery Workshop to your organization.
Learn more →
Get a different perspective
When people from a variety of experiences work together on a common problem with a specific method, magic happens automagically.
Build a quick MVP
Once you have a clear idea with prioritized feature set to solve a problem, partner with us to create an quick MVP to test it with users.
Propose a 18 month roadmap
Work with us to build a 18-month roadmap for the product, along with their feature breakdown and release schedules.
Estimate and cost & GTM strategy
With all these in hand, PDW helps you build a Go-to-market strategy for your Business Team to estimate the ROI.
---
Get started with Skcript's Product Discovery Workshop today.
In 72-hours, your business gets a clear roadmap on the next big product you have in mind.
Learn more →
"Enabling your organization go from idea to MVP in just 3 days is what makes our Product Discovery Workshops worth the investment."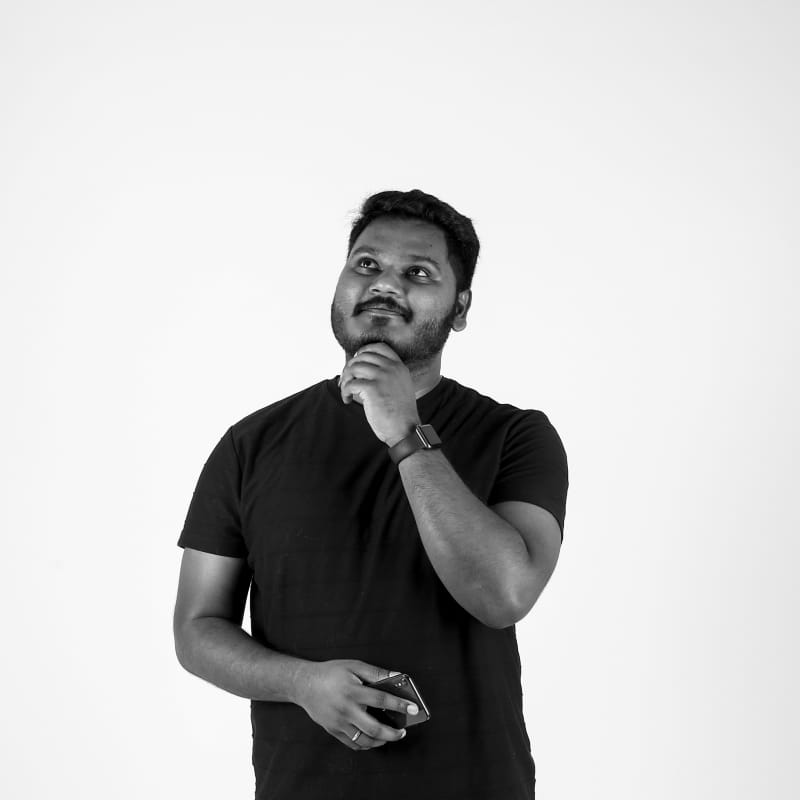 Karthik Kamalakannan
Design Thinking Host